What is Native Advertising?
Native advertisements are pieces of sponsored content that have the same format as the non-sponsored content that they are displayed with. The exact format varies from site to site, but native advertising in its ideal form should be a seamless addition to the content that is already on the page.

These advertisements can appear on news sites as suggested articles or additional reading at the bottom of the page, and in some cases, as entire sponsored articles. Ford's sponsorship of GOOD Magazine's Cities Project is a great example of this. For five months, GOOD is inviting writers to "pen love letters to their city," and writes on the Good Cities page that they are "embarking on this journey in collaboration with Ford." None of the published letters specifically mention Ford, but each one has a small box above the title that reads "Presented by Ford."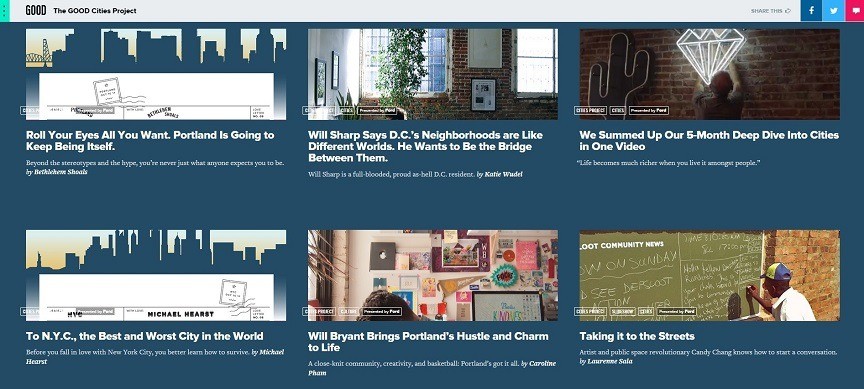 This is a great way for Ford to get their name on the site without placing a traditional advertisement or interrupting readers' experiences in any way.
Native advertisements can also exist on social media in the form of promoted tweets on Twitter, sponsored posts on Facebook and Instagram, featured videos on YouTube, and even custom branded playlists on Spotify.
On Twitter, Facebook, and Instagram, sponsored posts appear right in users' feeds, and are only distinguished as advertising by the words "sponsored" or "promoted" somewhere on the post. Most brands use conventions similar to regular users in order to make their posts fit into users' feeds, so Rad's tweet that includes a photo, hashtag, and emojis is pretty typical of a Twitter advertisement: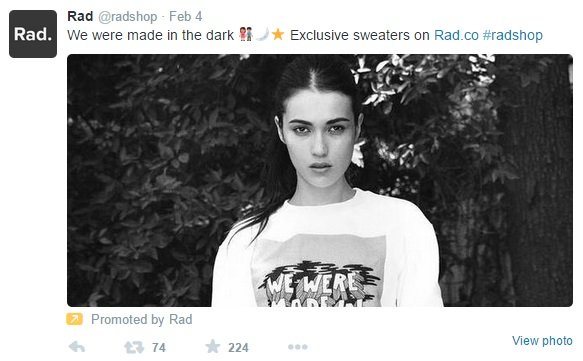 Why Is Native Advertising Important?
Native advertising is unique in that it is beneficial to both consumers and businesses. It gives readers a natural way to read content that may interest them, and gives businesses the ability to target and engage potential customers.
For Consumers
One of the best aspects of native advertising is that it is very well-received by Internet users. It is integrated in a way that feels natural for readers, and is much less disruptive than traditional banner or pop-up ads. It also eliminates the cluttered feeling that too many ads on a page can sometimes create.
Consumers appreciate this less abrupt approach to advertising. In a survey by HubShout, 85% of Internet users said that it did not hinder their browsing experience at all. In fact, 66% of respondents said that they found links to suggested content at the end of articles they read helpful. In these cases, the sponsored content felt complimentary to the non-sponsored content.
For Businesses
The advantages of native advertising are not limited to readers who do not want their browsing experience interrupted. By targeting ads to the right users and formatting them in a way that feels natural, businesses can greatly increase their advertising success. In the same survey by Hubshout, 67% of users said that they were more likely to click on a sponsored article than a banner ad. This increased click-through rate could be a huge source of profit for any business.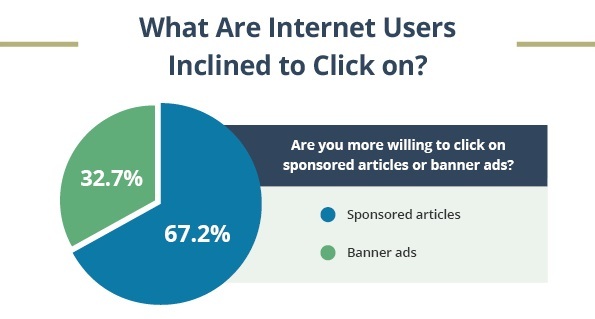 Much of this success stems from the ability to target specific audiences. When content is relevant to a user, they are much more likely to engage with it. For your business, this means you can spend less time and money on advertising to audiences that are not interested, and more of those resources on attracting people who could potentially be customers.
In a study conducted by ShareThrough, eye-tracking software discovered that consumers look at native ads 53% more frequently than display ads. When asked about these ads, 32% of respondents said that they would share them with friends and family members. Only 19% said the same for traditional ads.
Native advertising is also a great way to approach the increasingly mobile Internet. As more people browse on their phones than on their computers, it is important to consider how this affects ad placement. In many cases, users consume content in feeds like Facebook and Twitter, so posts and tweets are the only things they see. If advertising is not placed on these platforms, there is a good chance that they won't see it.
For more info: https://www.webfx.com/internet-marketing/native-advertising-small-business.html